Creative Heritage is Writing on the Wall's programme discovering and documenting hidden histories while engaging local communities in activities designed to develop their archiving skills and inspire creative work based on the stories they uncover. WoW's unique approach to heritage encourages collaboration between a diverse group of professional archivists, academics, writers, community activists, volunteers and the public as project participants.
The George Garrett Archive Project, Great War to Race Riots and The Liverpool 8 Law Centre Project, our most recent acclaimed Creative Heritage projects, established our successful template, which, alongside other aspects, includes:
A professional approach to collecting, collating and archiving collections of artefacts.
Working alongside professional archivists and other relevant professionals to ensure artefacts are treated correctly.
Contextualising the archive(s) through delivering a series of taught and workshop based educational sessions. Sessions are taught by writers and academics.
High profile publicity to recruit and engage participants from diverse communities to take part in projects.
Promotion and development of a range of skills for participants: Archiving; dissemination of findings through delivering adult and school-based workshops; creative skills and activities – writing, production and publishing.
Website and social media skills for promotion of archives and relevant activities.
If you would like to commission Writing on the Wall to advise, consult, or deliver your archive project, email details about the project to info@writingonthewall.org.uk and we will contact you to discuss how best we can help you to achieve your aims.
The George Garrett Archive Project
The George Garrett Archive project was created by Writing on the Wall in 2013 to celebrate and preserve the legacy of the Liverpool born writer, George Garrett (1896-1966).
Garrett was a Merchant, Seaman, writer, playwright and founder member of Liverpool's Unity Theatre. He was a radical social activist who travelled the world, living in America for a total of four years, and wrote a series of plays and short stories that led George Orwell, who he met in Liverpool while Orwell was researching 'The Road to Wigan Pier', to say, 'I was very greatly impressed by Garrett. Had I known before that it is he who writes under the pseudonym of Matt Low in the Adelphi (a magazine published in the 1920's and 30's) and one or two other places, I would have taken steps to meet him earlier.'
Find more information on the George Garrett Archive Project website.
Great War to Race Riots Project
In 2015 Writing on the Wall were presented with a number of original documents dating from 1919 to 1921 relating to the position of black ex-servicemen, seamen and factory workers stranded or left destitute in Liverpool after the First World War, who had fought for England on land and at sea during the Great War of 1914, or had worked in factories to support the war effort.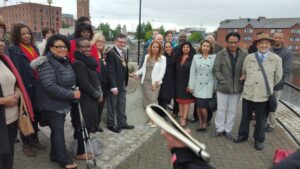 They reveal a plight of daily racism and loss of jobs because of the boycott by white workers, a boycott often supported by the trades unions. This tension led to the race riots of 1919, which resulted in many serious assaults and attacks and the death of Charles Wotten, a black seaman murdered by a white mob.
The unique nature of this material is that it contains the written word of those ex-servicemen, sailors and workers who were being confronted with verbal, physical and racial abuse on the streets of Liverpool, abuse which was compounded by institutional indifference or racism.
These archives have been collated and put together in a book which is now available to buy from Writing on the Wall's office.
Find more information on the Great War to Race Riots Project website.
The Liverpool 8 Law Centre Archive Project
The Liverpool 8 Law Centre was one of the most significant community organisations in the city. To a community who bore the brunt of high unemployment and government spending cuts combined with institutionalised racism, it provided support, legal advice and sanctuary.
The exciting new Heritage Lottery funded L8 Archives Project will explore, collate and catalogue the collections of the Liverpool 8 law centre and other key community organisations.