Writing on the Wall won Heritage Lottery Support for George Garrett Archive Project.
The project celebrates and preserves the legacy of the neglected Liverpool born writer, George Garrett (1896-1966) George Garrett, Merchant Seaman, writer, playwright and founder member of Liverpool's Unity Theatre.
George Garrett was a radical activist and a 'militant advocate of tolerance' who travelled the world and wrote a series of short stories and plays that led George Orwell, who he met and gave guidance and support to in his research for 'The Road to Wigan Pier', to say: 'I was very greatly impressed by Garrett. Had I known before that it is he who writes under the pseudonym of Matt Low in the Adelphi (a magazine published in the 1920's and 30's) and one or two other places, I would have taken steps to meet him earlier.'
Garrett and Orwell on The One Show!
Garrett and Orwell's historic meeting in 1936 featured on the BBC on The One Show.
Watch The One Show's short film here on BBC iPlayer.
George Garrett's importance in the literary 'canon' of working class literature is also supported by a leading scholar of working class writing, Professor John Lucas from Nottingham Trent University, who states that, 'Garrett is probably the most notable working-class writer of his time'.
Project Outline
The George Garrett Archive Project seeks to explore, preserve and share the life and work of Liverpool writer, seaman and political and social activist, George Garrett (1896-1966).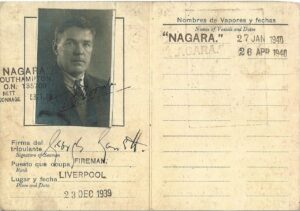 George Garrett's work occupies a unique and significant position as the central point of a compass that links Liverpool's literary, cultural, social, political, theatrical and sea-going history.
Through a series of workshops and field trips focused on researching, collating and cataloguing Garrett's work, the project will collaborate with Garrett's family, other interested individuals and organisations, and with professional bodies to preserve and create a permanent physical and digital archive of Garrett's work.
The project aims to enhance awareness and understanding of Garrett's work, explore the possibility of the existence of undiscovered work, and make his work accessible to the public through displays and exhibitions.
By telling George Garrett's story WoW is demonstrating its commitment to showcasing the legacy of the best of working class arts and culture. Starting in January 2013, the project will ran for 18 months, culminating in a weekend celebration of George Garrett's Life and Work during Writing on the Wall's annual festival in May 2014.
The legacy of the project was extended through the development of a display, an education pack, a short film and the housing of his archive at Liverpool's Central Library.
Project Aims
To involve Project Participants/volunteers to work with local historians and other professionals to research, gain knowledge and raise awareness of the life and work of writer, George Garrett, and Liverpool's literary, social and maritime history.
To enable project participants/volunteers to develop skills to research, collate and preserve the work of George Garrett, creating a physical and digital archive of his work.
To encourage the local population to celebrate Liverpool's literary history by sharing the work of the project through public display and performance and making George Garrett's work accessible to a wider audience.
To encourage an interest in local heritage and writing in schools, colleges and community groups, inspiring a creative response and encouraging a new generation of writers.
Since 2013 a team of volunteers – The Garretteers – have been collecting, collating Garrett's archive, which is now available for viewing and research In Liverpool's record Office, based on the 3rd floor of Liverpool's central library.
In 2017 Liverpool University Press published Ten Years On The Parish, The Autobiography and Letters of George Garrett.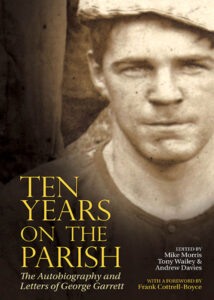 The project has published An Introduction to George Garrett, produced two rehearsed readings of his plays Two Tides and Flowers and Candles, held numerous exhibitions and talks, created an installation in conjunction with Liverpool John Moores University's John Lennon Art and Design Academy, and delivered school-based educational and literacy projects – George Garrett, The Travelling Man.
Click here to buy the book Ten Years on the Parish
If you would like to find out more information about the project, and/or book speakers or commission a project for your organisation or event, email admin@georgegarrettarchive.co.uk