Congratulations to our Pulp Idol 2024 Finalists!
Edward Gray – The Fool, The Troll and The Head Sherang of the Whole Shebang
Tavia Panton – Below and Beyond the Surface
Victoria Steward – At The Laurels
Keith Fielding – The Walkie Man
Kevin Chadwick – My Next Life
Emily Cross – The Starlight Express
Beth Noonan-Roberts – Before it all began again
Mack Young – The Old Main Drag
Patrick Browne – Stay Mum
Michael Inniss – The Cascadura Legend
Rachel Waltermeyer-Abraham – The Last Chippy
Dan Howarth – Lionhearts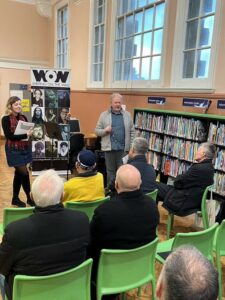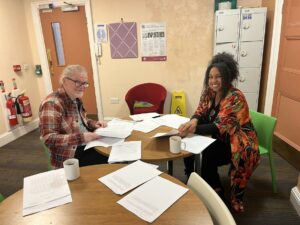 For sixteen years the Pulp Idol competition has uncovered the best new novelists the city of Liverpool has to offer. 
Many new novelists, including  Ashleigh Nugent (LOCKS), Ariel Khan (Raising Sparks), James Rice (Alice and the Fly, Walk), Clare Coombes (Definitions), and Philippa Holloway (The Half Life of Snails), have found their first success through Pulp Idol. This competition is unearthing the best new novelists from Liverpool and across the country.
All finalists get their first chapter published in a book of 'Firsts,' which is produced in hard copy, a digital manuscript and made available on Amazon Kindle (and free on Kindle Unlimited!). Copies of Pulp Idol – Firsts are sent to agents and publishers. 
If you have any questions about Pulp Idol, please email our Publishing Coordinator Jenny Dalton at jenny@writingonthewall.org.uk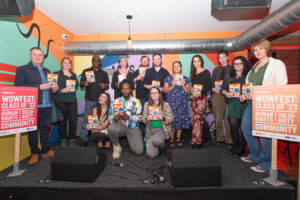 Previous Competitions:
Pulp Idol – Firsts 2023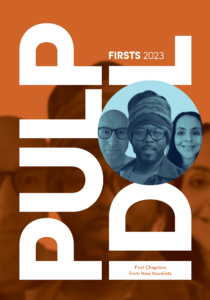 "Pulp Idol has connected me with a vibrant literary community, introducing me to renowned authors, agents, and industry professionals. As my network expands, so does my craft, with tailored workshops and mentoring sessions to enhance my skills. If you're an aspiring writer seeking to unveil your voice to the world, I highly recommend entering Pulp Idol. " – Addae Gaskin, winner of Pulp Idol 2023
'This competition continues to discover and showcase the very best emerging talent from the area, and to nurture and encourage diverse voices. This year's finalists are proof of the amazing voices waiting to be heard by a wider audience.' – Philippa Holloway, 2023 Grand Final Judge, Author, and Lecturer
'Pulp Idol finds amazing writing talent and kickstarts careers for writers from all backgrounds. This is such an exciting collection that literary agents, publishers, and readers will love.' – Clare Coombes, 2023 Grand Final Judge, Author, and Founder of the Liverpool Literary Agency
Pulp Idol 2023 Winner
Addae G – Long Time Band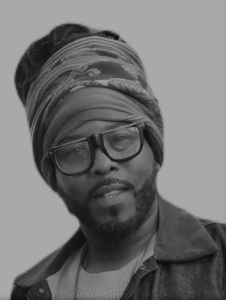 Meet Addae G, the multi-talented writer, playwright, carnival artiste, and danger who is taking the literary world by storm! Born and raised in Trinidad, Addae's passion for the arts was ingrained in him from a young age. Growing up, he was inspired by the vibrant energy of Trinidad's carnival culture and honed his skills as a dancer and carnival artiste, participating in numerous masquerade bands and theatrical productions. It's this passion for the arts that has driven Addae to pursue a career as a writer and playwright. His work is heavily influenced by Caribbean heritage and the rich cultural tapestry of Trinidad, infused with the dynamic rhythms of calypso and the bold hues of the island's vibrant Carnival traditions. With lyrical style that's both evocative and captivating, Addae's writing transports readers into a world where imagination reigns supreme, and where anything is possible. He invites us to join him on a journey of self-discovery and empowerment, encouraging us to embrace our roots, and to celebrate the diversity that makes us all unique. So, if you're looking for a literary experience that's full of heart, soul, and vibrant energy, look no further than Addae G – the Carnival King of Words!
Long Time Band 
When Bacchanalia, the ancient and powerful deity-muse of Carnival, seeks a host, Little-Man becomes the chosen vessel of her divine energy. As he confronts the challenges and dangers of the 'new reality,' Little-Man must also grapple with the demons of the past and the weight of expectations landed on his shoulders as he leads a missions with fierce determination. Get swept through the intoxicatingly vibrant and pulsating streets of East Port-of-Spain, Trinidad & Tobago in this afro-futuristic piece.
Pulp Idol – Firsts 2022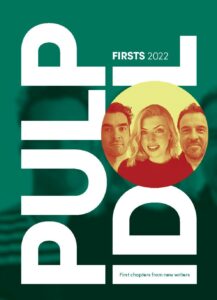 "Pulp Idol continues to find and work with some of the finest new voices around and in this years anthology, they have published some of the best."
– Kevin Duffy, Judge and Co-Founder of Bluemoose Books
"Congratulations to all of the finalists! What a competition. Each piece is a celebration in its own right. Together this is an exciting collection, a promise of what is to come. Personally, I can't wait to read where your stories take you."
– Yvonne Battle-Felton, Judge and Author (Remembered, Blackstone 2021)
For agents, publishers and anyone interested in contacting past Pulp Idol writers, please email: jenny@writingonthewall.org.uk

Featuring winners Kim Wiltshire (2019), Natalie Denny (2018), Lewis Jennings (2017), Andy Billinge (2016), Em Coombes, Louise Muddle, Roisin O'Grady, Chris Radcliffe, Duncan Ross, Peter Swindells and Magaly Tawakoni.
To buy previous editions, click these links: 2018, 2019, 2020.
Older editions are still available, to arrange for a specific edition please email jenny@writingonthewall.org.uk