WoWFEST: Class of '23 was an outstanding event that brought together seventy-six talented writers and artists for a series of thirty-four thoughtful, provocative and hugely entertaining events celebrating the rich diversity of working-class culture.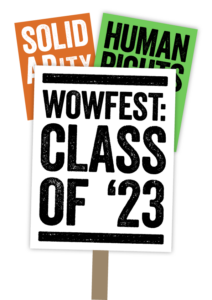 Throughout our journey at Writing on the Wall and our festival, the significance of class has remained at the core of our work. In an era marked by rising living costs, benefit reductions, and stagnant wages, it has become increasingly vital for the voices of the working class to be heard in publishing, television, and all aspects of life. Many have taken to the picket lines to campaign for better wages and improved conditions. Within this context, our festival provided an ideal platform for writers, artists, and commentators to share their work, engage in lively debates, and amplify their voices.
We were thrilled to welcome back friends of WoW, including Gary Younge, Joelle Taylor, Linton Kwesi Johnson, and Lowkey. Additionally, we were honoured to introduce influential voices such as Travis Alabanza, Kenan Malik, and Tomiwa Owolade for the first time. Showcasing extraordinary local talent is always a source of pride for us, with the launch of Ashleigh Nugent's debut novel, Locks, the class of '23 Pulp Idol writers and Jack Byrne's novel Before the Storm. Highlights included a fantastic sunny day at Sefton Park for our Future in Flames event that brought together performers, artists, and activists to creatively explore the urgent issue of the climate crisis, the launch of Liverpool's Art and Culture Race Equality Manifesto and The Royal Television Society Conference and Hat Trick event which both encouraged discussion around working-class screenwriters.  Furthermore, the unique experience of running this year's festival alongside Eurovision, which our city was proud to host, added to the excitement. To celebrate and stand in solidarity with Ukraine, we hosted an enchanting evening of Ukrainian Poetry with Liverpool's Dead Good Poet's Society.
We are proud and thankful to be surrounded by so many talented writers, artists, staff, volunteers, Trustees, businesses, cultural organizations, venues, project participants, and audiences, and thank them all for their support and for making WOWFEST23 an unforgettable and inspiring experience. Our heartfelt appreciation also goes out to our funders and sponsors, including Arts Council England, Culture Liverpool, Liverpool City Council, The British Council, Institute of Creative Enterprise at Edge Hill University European Social Fund, Paul Hamlyn Foundation, and The Anthony Walker Foundation. Without their generous support, this festival would not have been possible.
We would like to express our thanks to Poke Marketing for their exceptional design work and our skilled photographers, Zaki (@caseusphoto) and Graham Smillie (@gsmillie77), for capturing unforgettable moments throughout the event.
Writing on the Wall, as WoWFEST: Class of '23 has shown, are committed to bringing the best writers and artists from the UK and beyond to audiences in Liverpool, and to creating a platform for new writers and artists to develop their careers. Your ongoing support helps us achieve this.
Stay tuned and stay classy, as we have exciting plans in store for the remainder of the year!
Mike Morris & Madeline Heneghan (Co-Directors) and the entire staff at Writing on the Wall.