£
Rose Thomas's novel tells the story of Bess, a young black woman from Liverpool 8, looking back on her life in Liverpool from the 1950s through to the 1980s, as she prepares to return to Liverpool from London where she has been living with her son.
Bess is young, black and part of a new generation growing up in post-war Liverpool facing age-old racism amidst new opportunities for work, and personal, social and sexual exploration.
Bess depicts the lives and traumas of members of Liverpool's black community from the 1940's onward. She has never felt comfortable living in Brian's London docklands flat, where they both moved to escape their past lives. But fate intervenes, and after hearing news of the critical illness of a close family member, Bess and Brian finally return to their home city.
On the train from Euston to Lime Street, Bess recalls her early life. From innocent au pair to a middle-class family, to call girl frequenting the local clubs, through to a rebirth in consciousness following the Toxteth Riots of '81.
This beautiful debut novel, the first published novel by a Liverpool-born black woman, moves and inspires in equal measure.
Rose Thomas, mother of 3, was born in 1942 and brought up in Toxteth, Liverpool.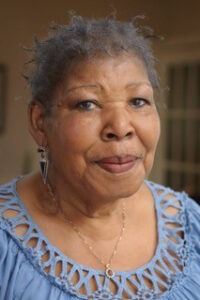 Rose has written poems and plays. She has achieved some success in publishing in the past and has sought to develop her skills by engaging in a three year University-based course in Creative Writing. Rose has read extracts from her novel at a variety of events with Writing on the Wall and most recently at the Collegium for African American Research (CAAR) conference held in Liverpool Hope University. Now in her seventies, after a long and varied career, this is her first novel.

Physical Copies Temporarily Sold Out.
Buy Now