Click here to learn more about Superheroes: Words Are Our Power – Diverse Stories for a Diverse World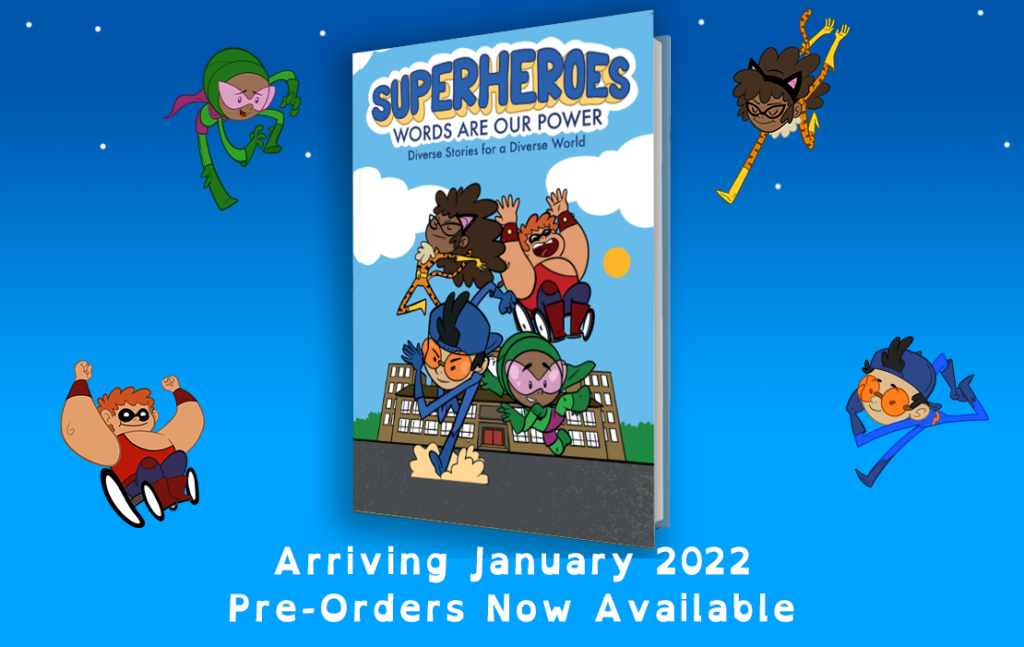 We recently had the pleasure of being joined by Author Darren Chetty on a Continuing Professional Development (CPD) seminar about increasing diversity and representation in children's literature and classrooms, helping to allow children to see themselves in the books they read. Check out Alice Bunker-Whitney's blog on the session including the importance of representation in the classrooms.
Superheroes stand up for what is right and change the world for the better, with this, WoW's literacy in schools project is doing just that!
AS SEEN ON ITV NEWS, LIVERPOOL ECHO AND LIVERPOOL TV!
Superheroes: Words are our Power is a pioneering four-year project (2019-22) funded by Paul Hamlyn Foundation More and Better fund that's exploring new creative writing strategies for primary schools.  Using Superheroes as a force for change we're helping children use their imaginations through creative writing, play and story creation. Whilst also supporting teachers to put creativity back into the curriculum.
The project aims to:
Increase children's creativity, confidence and resilience
Help encourage positive attitudes to engagement and learning
Encourage a child-centred approach to English and writing
Give teachers the tools to develop their own creative practice in the classroom.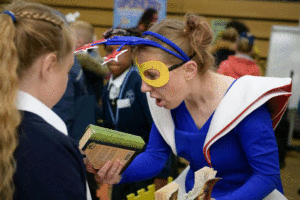 Superheroes: Words are our Power, provides a Professional Writer in Residence to all schools, working with the whole of key stage 2 across the school term.
The children and teachers have the opportunity to explore different forms of creative writing, through the writer's expertise and passion!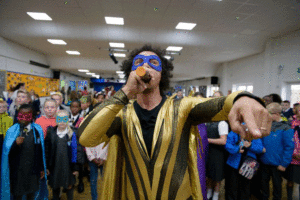 We are lucky to work with poets, authors, comic book writers, spoken word artists and playwrights.
Alice from WoW works with year 5 for the whole term, creating stories and comic strips based on superheroes that reflect them and the world they live in. These stories are then published into a professional comic book, with each child receiving their own copy.
The next fantastic four years we are working with eight schools in Merseyside;
Visit each website to find out more information:
We are really excited to be working with Curious Minds as a partner, critical friend and evaluator.
The Superhero writers in residence we are working with this term are…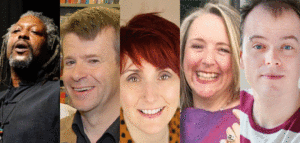 Left to right: Levi Tafari, Jon Mayhew, Marie Basting, Mandy Coe, and Dominic Berry.
For more information, please get in touch with Alice Bunker-Whitney – Project Manager Children & Young People, email:  alicebw@writingonthewall.org.uk
Videos
Superhero Introduction
Download the Superhero Introduction video on Vimeo
Videos for Years 3&4
Yvonne Battle-Felton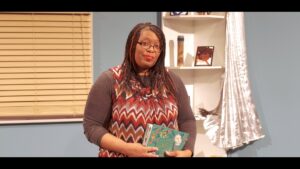 Download Yvonne's 26 Word Story video 
Download Yvonne's Character Driven Prose video
Download Yvonne's Scene Writing video
Dommy B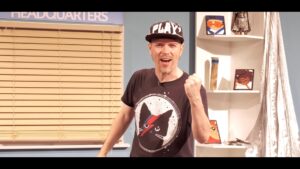 Download Dommy B's Story Poems video 
Download Dommy B's Conflict Poems and Adjectives
Download Dommy B's Super Power Rhymes and Similes video
Videos for Years 5&6
Louise Fazackerley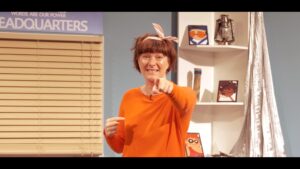 Download Louise's Call and Response video
Download Louise's Angry Poems video
Ash Nugent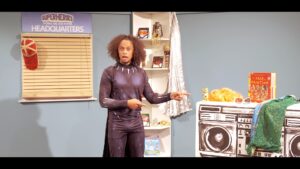 Download Ash's Topic Raps video
Download Ash's Metaphor Raps video
Download Ash's Alliteration Raps video
Resources
Download your own PDF copy of the Superhero exercises using each link below: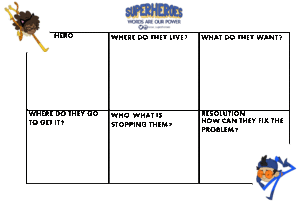 Download the 6 box story here (PDF)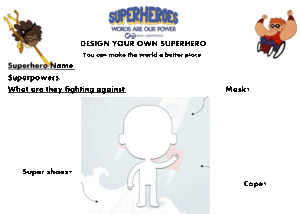 Download Design Your Own Superhero (PDF)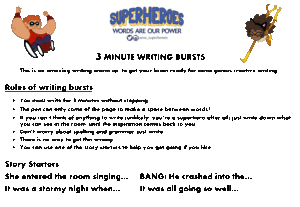 Download 3 Minute Writing Bursts (PDF)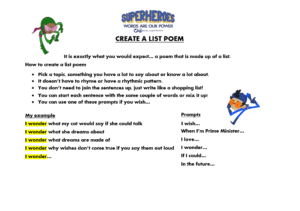 View a printable version of Create a List Poem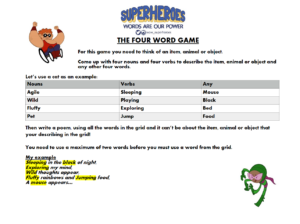 View a printable version of The Four Word Game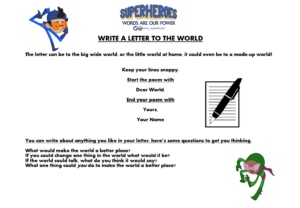 View a printable version of Write a Letter to the World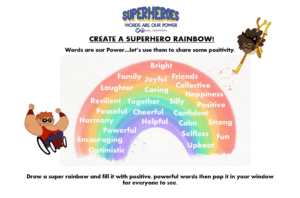 View a printable version of the Super Hero Rainbow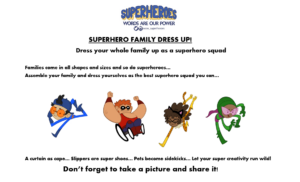 View a printable version of Superhero Family Dress Up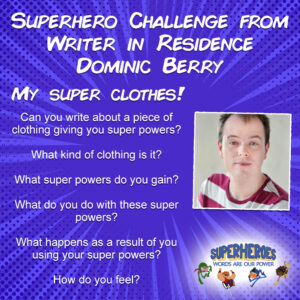 View a printable version of Dominic Berry's Challenge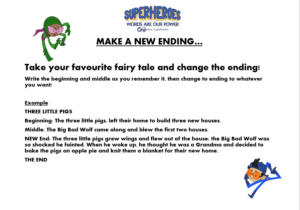 View a printable version of Make A New Ending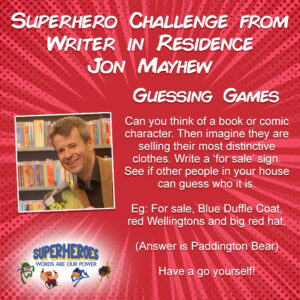 View a printable version of Jon Mayhew's Challenge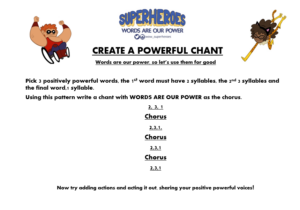 View a printable version of Create A Powerful Chant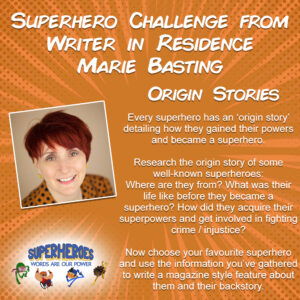 View a printable version of Marie Basting's Challenge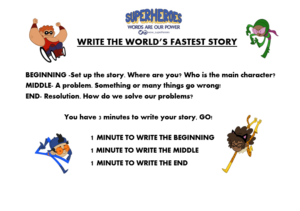 View a printable version of Write The World's Fastest Story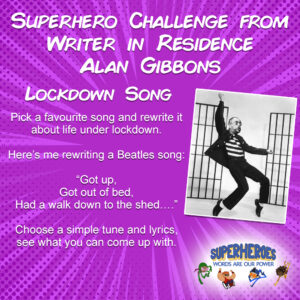 View a printable version of Alan Gibbon's Challenge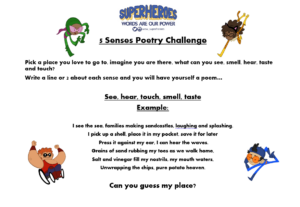 View a printable version of the 5 Senses Poetry Challenge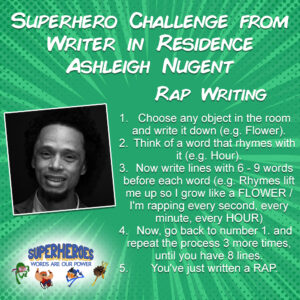 View a printable version of Ashleigh Nugent's Challenge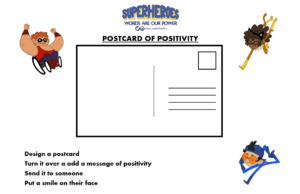 View a printable version of Postcard of Positivity 
Writing Top Tips
Louise – Rhyme Accents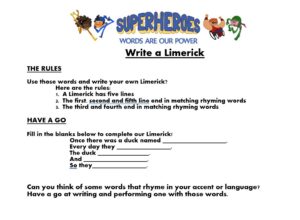 Download the Write a Limerick resource here
Yvonne – Word Choice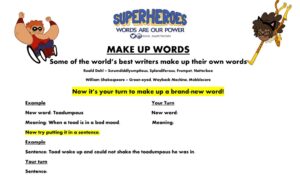 Download the Make Up Words resource
Dom – Blank Page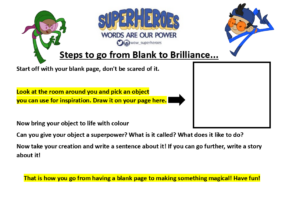 Download the Go From Blank to Brilliance resource
Ash – Differences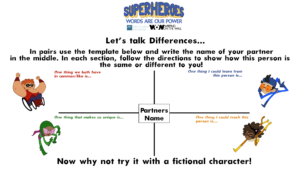 Download the Let's Talk Differences resource
Yvonne – Character Motivations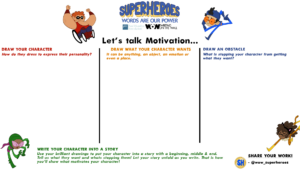 Download the Let's Talk Motivation resource
Ash – Nerves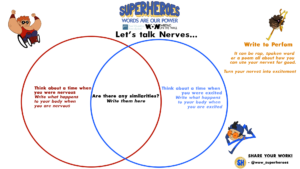 Download the Let's Talk Nerves resource
Louise – Writing Quickly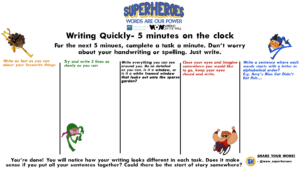 Download the Writing Quickly resource
Dommy B – Rhyming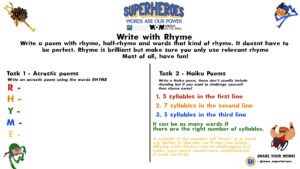 Download the Write with Rhyme resource
Yvonne Battle-Felton – Read Out Loud