£2.99
For the second year running in 2017, Writing on the Wall and Liverpool Pride worked in partnership with writers from the LGBT+ community to create an anthology of work that marks the injustices people face here in the UK and internationally.
The news has been littered with snapshots from Orlando, harrowing news from Chechnya, the UK's messy break-up with the EU and our current government's affair with a political party which denies basic rights to homosexuals.
All this coming not long after Uganda's very public battle to make homosexuality punishable by death, yet somehow we appear to forget all too quickly the legacies of activists such as David Kato and the rights they often sacrificed their lives for.
At a time when heated debates about bathrooms are turning entire communities against one another, it seems language has never been so important.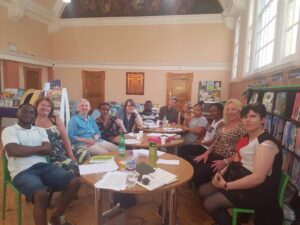 Pride's theme was International Love and we jumped at the opportunity to work on a project that allowed unheard stories to be told.
Over eight weeks the group worked together, led by course leader Helen Sandler, to create a supportive and collaborative space that empowered writers from Liverpool and the world to share stories of fear, determination, laughter, resilience and love.
A special thanks to Helen Sandler for facilitating such an inspiring programme and to Liverpool Pride, in particular Joan Burnett and Michael Carey, without whom the whole project would not have been possible.
A huge thanks to Liverpool based group Many Hands One Heart who work to support LGBT+ asylum seekers, and Lyndsay Price, our wonderfully talented volunteer.
Our biggest thanks are reserved for our wonderful writers who have come together to bare their souls so that we do not forget that for some people the world is still not equal.