Writing on the Wall have been awarded 'Outstanding' in the Creative Case category by Arts Council England. WoW is founded on the belief that artistic excellence cannot be achieved without diversity in programming.
If you are interested in discussing with WoW how we can help your organisation develop its strategy for audience development, equality and diversity, you can contact us at info@writingonthewall.org.uk  or call us on: 0151 703 0020.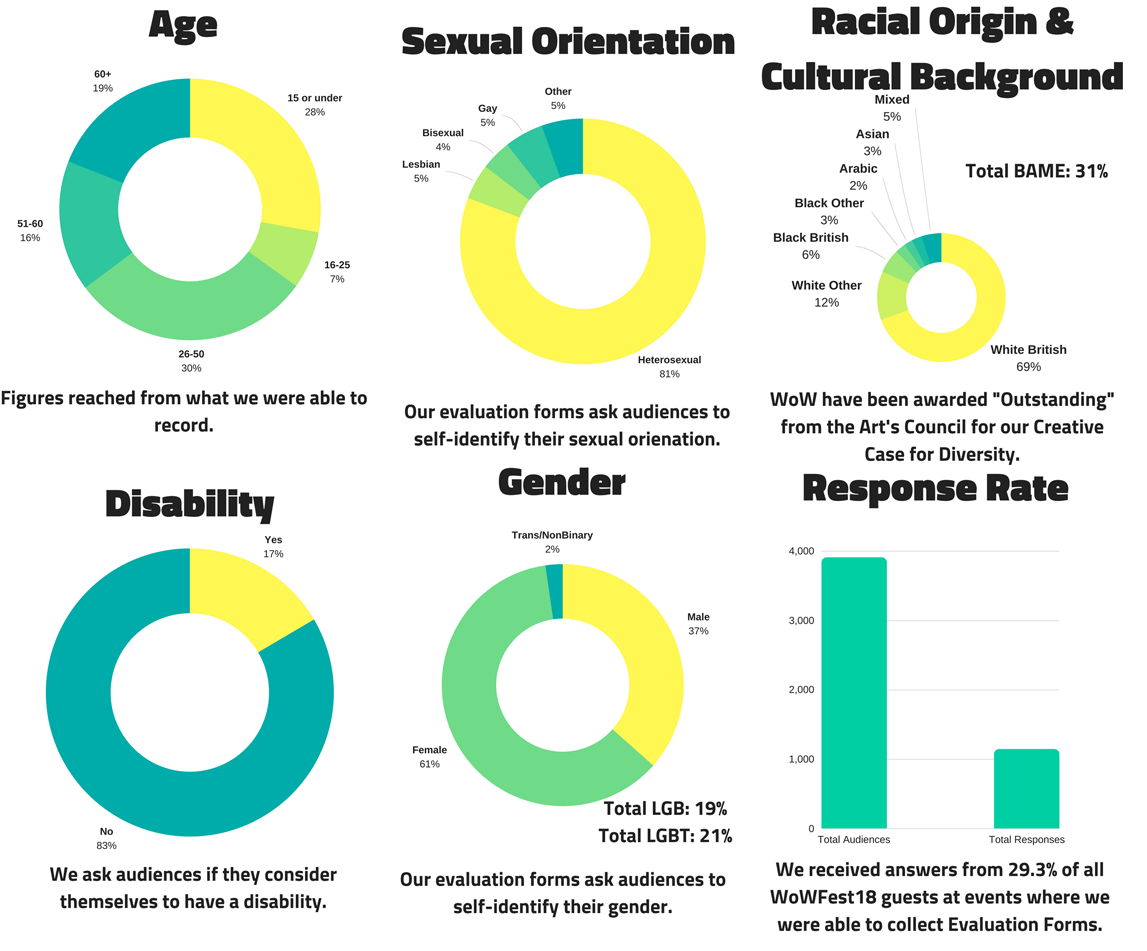 Arts Council England have adopted The Creative Case for Diversity, arguing that 'Diversity and equality are crucial to the arts because they release the true potential of our nation's artistic talent – from every background. Our diverse nature offers unique opportunities for artistic collaborations and innovation.
The Creative Case for Diversity is a way of exploring how organisations and artists can enrich the work they do by embracing a wide range of influences and practices. We believe that embracing the Creative Case helps organisations not only enrich their work, but also address other challenges and opportunities in audience development, public engagement, workforce and leadership.
WoW is delighted to have had its work on diversity and audience development merited 'Outstanding' in its NPO award evaluation. This is recognition for many years of dedicated application towards ensuring that the most marginalised and discriminated communities are engaged within our work, and also encouraged to engage in arts and culture generally across the region.
We are also proud that the drive and expertise of Co-Director Madeline Heneghan has been recognised by Arts Council England who have appointed her as a 'critical friend' in the North-West for the Creative Case programme.
We have achieved our aims by developing a highly skilled, and diverse staff team and board, with representation from BAME and LBGTQI communities, with an age range from 22 to 62 years with five of the six board members female and five of the seven staff members female. Our programme of events and projects is designed to reflect the diversity of our local communities.
Our success is reflected in our audience profile, measured annually against city-wide data and the 2011 census. This reveals that engagement levels among those currently least engaged in arts and culture have increased
May 2017 Festival monitoring presented the following positive engagement profile:
• 17.1% of respondents from Black and Minority Ethnic (BAME) communities, as compared with city's population of 13.9%
• 15.8% of respondents belong to LBGTQI communities – significantly higher than the UK Government estimate of Liverpool's LBGTQI at 5.7%
• 64.3% of audiences were women
• 30.9% under 15 years
• 6.7% between 16-24 years.
• 14.3% indicated that they have a disability
An example of how monitoring has shaped programming is our work to increase engagement with disabled communities. As part of this strategy we have programmed high profile artists and disability campaigners Liz Carr and Francesca Martinez, and are working in partnership with Liverpool-based disability arts festival DadaFest to continue to increase the number of those participating in projects and festivals from the disabled community. For the period 2018-22 WoW will regard this area as a priority, and will develop regular targets and milestones to monitor developments. This will ensure representation at the highest level and continue to maintain WoW's work within that community.
WoW has done a significant amount of work with the BAME community. Our ability to develop projects and events that respond to the community's specific concerns has been noted by many people within the area. 'What's Your Granby Story?' with Granby Community Land Trust, the area in Liverpool with the highest concentration of BAME communities, led to the publication of a book and three public events with audiences of over 300. The introduction to WoW's 'What's Your Granby Story?' was used as part of the catalogue for Assemble's Turner Prize winning entry. Our Great War to Race Riots was featured on the BBC's Black and British series. These successful, nationally recognised projects have developed from our work with Liverpool's BAME community, a community that has been neglected for many years, but who have played an active part in many of our programmes.
The national attention this work has received has added to WoW's standing within Liverpool's BAME community and increased the potential for new projects over the next four years. Most recently, WoW's mini-Black History Month Festival summed up our unique ability to combine the creation of direct work – the book launch of Great War to Race Riots co-authored by WoW Co-Director Madeline Heneghan; a walking tour attended by thirty people, including 12 people from Holland who are part of a slavery memorial group – and a gig by one of the UK's greatest writing and spoken word talents, Benjamin Zephaniah, with two of WoW's former young writers, Blue Saint and Amina in support.
WoW's engagement with diverse communities encourages active participation and artistic and personal development. 'What's Your Pride Story?' with Liverpool Pride, included showcases in the WoW Festival and Liverpool Pride festival; 'Mental Health and Me' delivered in partnership with the Liverpool Mental Health Consortium, led to the publication of a book and a public showcase.
WoW has worked with Liverpool Pride on a series of projects, publishing the work of writers from the LGBTQ+ community from 'What's Your Liverpool Pride?' creative writing projects, and 'What's your World pride Story?' with LGBTQ+ people seeking asylum in Liverpool due to their being targeted in their own countries because of their sexuality.
WoW aims to continue the success of 'Changes: Gender in the 21st Century', a 2016 festival event featuring high profile trans-gender, gay and drag artists. We will continue throughout 2019-22 with the regular inclusion of further trans artists in the festival and are discussing developing a project to engage young people who consider themselves to have been born into the wrong gender.
WoW will continue to use accessible venues for all events and projects. Where possible we budget for BSL signers, as well as travel and refreshments to remove barriers to participation. Many of WoW's festival events, and all its projects and competitions are free to enter, with most of WoW's festival tickets priced at approx. £8, with concessions always available. WoW will regularly review its pricing policy but is committed to ensuring ticket prices and availability continues to be accessible to the most marginalised communities throughout the 2018-2022 period.
WoW will conduct an annual review all policies, action plans and procedures relating to equality and diversity and ensure that all Trustees and staff are committed to contributing to the Creative Case for Diversity.
As you can see, we have developed a way of working based on our ethos, that can support you in achieving the aims of The Creative Case for Diversity. Our staff can work with you to train your staff in:
– creating and Impementing and effective Equality Action-Plan