We are continuously proud to champion work like Macey's, and Tamala's. Whether through writing, art, or other expression, we see daily the impact sharing our stories and experiences can have. If you'd like a copy of the book please click here.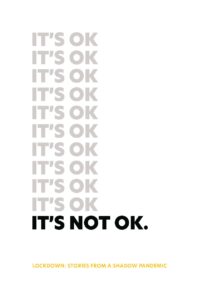 If you or someone you know is experiencing domestic abuse, you can get support from one of the following services:
To my daughters
Tamala
I'm so sorry for the times I wasn't able to love myself
enough
I'm sorry for the unleaded parts of me that in turn
hurt you
It was never my lack of love for you
Only my lack of love then, for myself
I was lost and in need of my own tenderness
This was before my soul pulled me ever so gently
into light and I started to really see the world in all
its wonder, and began to do the work to soften the
walls I built around me
So, if I may, I'd like to pass on what I've learnt to you,
so that you understand this life better than I ever did
I hope you never question whether you're worthy
I hope you realise you don't have to say sorry
for taking up the space you so rightfully own
I hope you're strong enough to always speak up for
yourself
and to not be afraid to ask for all you require
I hope you never spend restless nights wondering
if you are enough
because you always have been and always will be
enough
You are magnificent in all of your glory
You are enough for the right people
those who see you for who you really are
Try your utmost to not deny yourself of love
and embrace your beautiful sensitivities and
compassion
because they are your innate power
You are wise and have immeasurable strength deep
in your bones
You are brimming with knowledge, wisdom and love
It's paramount that you're able to love yourself
without placing any conditions
Do not let shame drag you to self-sabotage, stopping
you in your tracks
Love and compassion for yourself should always
be your priority
Please remember to listen to your heart first and
foremost
I want to remind you, you are the earth that sprouts
new life, malleable not stone
You are petal-soft, warm, loving and so capable
You sense what is said before words are spoken
and you feel the aching of hearts beyond shouting
you are supremely sensitive and because of this you
feel everything so deeply
the power of the sometimes subtle is your guide, it's
a magical gift
give yourself permission to feel all, in loving
awareness
Do not defend yourself but learn to stand in your own
openness, under fear, anger, numbness, avoidance,
distrust and sadness as it's within these places you'll
discover
the power of your sensitive nature
When you sense sorrow, this is your call to grow,
not abandon
try your best to never deny yourself love and affection
and always let yourself feel your own ache, to bring
you home to your heart
You'll come to realise good people will champion you
but you deserve to know that some people aren't
going to stick around for you
and that is OK
It isn't an indicator of your worth as a human being,
but of theirs
It brings from darkness into light that their story
and your story weren't meant to have the same set
of pages
You'll find people who will see your light and realise
that it beautifully matches theirs
You'll meet endearing people ready to embrace a
blank canvas with you
Painting the most exuberant pictures
Let the right people admire and cherish you for the
beauty and light you so gracefully emit
There will be those who come out of darkness to try
to steal from your heart
be wary and stand strong if you don't want them to
feature on your pages
They were never meant to have a chapter anyway.
You are enough for the right people
you are worthy of true love
and you are magnificent in all that you do
Unfortunately, your heart will break
But you have the power to put it back together so
diligently
Don't fret, I know you are immense in power
and you will overcome adversity you encounter
Try not worry, worry is a burden you must free
yourself from
it's the heaviest weight that severs you from grace
and removes you from the ever-shifting current of
life, your breath and heartbeat are your way back
to love and truth
Life's lessons will equip and instil fortitude as soil
for you to flourish
Never put yourself second to anyone
Never doubt your splendour
Always laugh and embrace when the opportunity
of being silly arises
Always take the positives from every situation
You'll find positivity sprinkled everywhere
your light illuminates from within
and shines through, intimidating those afraid of their
own shadow
unable to handle the exposure
but rest assured like moths drawn to a flicker
the right people will always surround you
Pure light has no shadow
Always aspire to speak your truth and stand tall
Always keep your heart soft and full of love
As it conquers all darkness and pain
Remember, you are an astounding human being,
for you are absolutely everything this world needs
and I am privileged beyond all expression, to be
your mum
You are loved immensely by those worthy of you
Thank you wholeheartedly for teaching me strength,
resilience and love
and I appreciate that you opened my eyes to the
beauty and wonder in this life
It's Not Ok was a 12-week creative writing course that worked alongside women who have experience of domestic abuse. The project was part of our What's Your Story? (WYS) programme that employs a groupwork methodology to help communities come together, share, write and publish their work.
Our Head of Programmes, Emma Hulme, discusses the gravity of It's Not Ok and its related work:
"This book is full of words. It's full of stories, of life, of laughter, of survival, pain, determination, and everything in between. These stories are communicating with us. They demand we recognise the real human experience within abuse and not just the stats. It forces us to see the experiences of our sisters, mothers, fathers, daughters, neighbours. It's a call to arms, an unapologetic account of modern-day relationships."
Read more about What's Your Story? here.