WoW are delighted to be a part of the Wondrous Place gallery at Museum of Liverpool, exploring Liverpool's internationally recognized talent across music, sport, cinema and literature.
Visit the permanent display for free and see an exhibition space dedicated to WoW. Read about our history with words from our Co-Directors, Mike Morris and Madeline Heneghan. Watch a video jam-packed with some of Liverpool's incredible writing talent that we've had the pleasure of working with, from Amina Atiq to Ashleigh Nugent and so many more!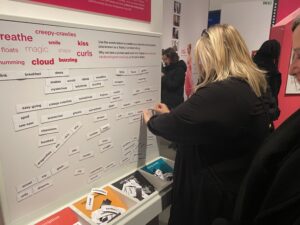 Take part in our interactive word game to create your own three-line poem (or 'Haiku') or short story. Don't forget to take a picture of the final product and tag on Twitter @wowfest or email info@writingonthewall.org.uk so we can share your work!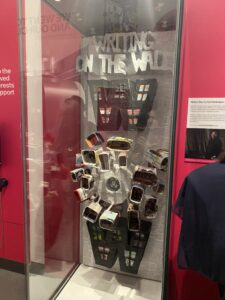 We are also excited to present 'Writer's Bloc', a sculpture by the brilliant artist Faith Bebbington. Constructed from publications and flyers from previous WoW events, 'Writer's Bloc' reflects our history and achievements since we began in 2000.
In addition to WoW's dedicated space, Wondrous Place celebrates Liverpool's internationally recognised creative expression. Check out displays showcasing the city's history, from filming locations to The Beatles memorabilia, as well as tributes to trailblazing organisations, from Bido Lito! to Sonic Yootha.