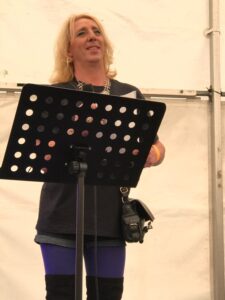 We are devastated at Writing on the Wall to learn of the passing of Imogen Christie, activist, writer and dear friend of WoW.
Imogen joined the WoW family four years ago when she came to volunteer and get back into creative writing. From the moment we met her she was vivacious, passionate, a real beacon of light for so many. She joined as a writer on our What's Your World Pride Story? project, in collaboration with Liverpool Pride, and volunteered on our Transcripts course, on both projects she proved to be an invaluable member. Imogen had a real skill for connecting with people, for seeing their experience and celebrating them for who they were. She was bold and authentic making her one of the most important activists we've had here in the city, especially for her continued, tireless work for our Trans communities. We will miss her more than we can say but take pride in knowing her words with being forever in print and her work will continue.
To use her own words 'we liked the cut of your jib', we'll miss you, Imogen.