Costa Prize Winning poet Hannah Lowe 'The Kids', and local poets from Liverpool's own Dead Good Poets Society, including Flloyd Kennedy, present a world-class evening of performances.
Hannah Lowe is a poet, memoirist and academic who taught for a decade in an inner-city London sixth form. At the heart of her latest book 'The Kids', there are compassionate and energetic sonnets which fictionalise portraits of the students she nurtured. But the poems go further, meeting her own child self as she comes of age in the riotous 80s and 90s, later bearing witness to her small son learning to negotiate contemporary London.
Aside from the Costa 2022 Prize Award, Hannah's book 'The Kids' is also the recipient of The Costa Poetry Award and the Costa Book of the Year, 2021. She undertook her AHRC-funded PhD in Creative Writing at Newcastle University, and now lectures in Creative Writing at Brunel University.
'These sequences of stories are a refreshing update to The Prime of Miss Jean Brodie and To Sir with Love. Each of Lowe's sonnets is a blackboard chalked with the tales of earnest teachers, cheeky and lovable students, being mentored to become a poet and of motherhood and learning to instruct again. Lowe makes the sonnet exciting for our age through its urgent, its compassionate, its wonderfully humorous address of the personal and the social' – Daljit Nagra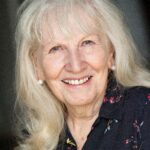 Flloyd Kennedy is an Australian-born actress, director and voice coach who began also performing as a singer-songwriter and performance poet when she moved to Liverpool in 2017. She participated in the British folk revival in the late 1960s, performed and directed street theatre and fringe theatre in Scotland throughout the 1980s and 90s, also taught voice skills in the UK, US and Australia.
Flloyd is an Associate Artist with ISAAC (International School for Acting And Creativity), and a proud member of British Actors Equity. Her podcast comedy-drama series Am I Old Yet? is available on all major podcasting apps. Her poetry collections Sunsets & Kites, and Home is Where I Hang My Pot (published during lockdown) are available from local and online booksellers, and her songs are available on Bandcamp.
This event is in association with The Dead Good Poets society, Liverpool's oldest poetry night, and will also involve a Q&A with Hannah discussing her writing, winning the Costa Prize, and experiences that have shaped her work.