A Club Night with Joelle Taylor
An evening of performance, conversation
and dancing with Joelle Taylor & Paul Burston
Including performances from WoW Ghost Writers,
Well Hung Parliament, & The Vicars Daughter
Dust off your dancing shoes and join T.S. Eliot Prize Winner Joelle Taylor for a club night like no other. Joelle, a force of nature, will perform from her highly acclaimed C+NTO & Othered Poems.  History, magic, rebellion, party and sermon vibrate through Joelle Taylor's cantos to uncover underground communities forged by women. C+NTO explores sexuality and gender in poetry that is lyrical, expansive, imagistic, epic and intimate. C+NTO is a love poem, a riot, a late night, and an honoring.
Featuring performances by Jackdaw Faust & Chris Jenkins, writers of WoW's celebrated Ghost Bones poetry collection exploring the things that haunt the bone: gender constructs, heritage and liminal identity.
We are also delighted to have Manchester based Drag Kings, Well Hung Parliament and The Vicars Daughter, performing at the event.
Joelle Taylor is an award-winning poet and author who, prior to the pandemic, completed a world tour with her collection Songs My Enemy Taught Me. She founded SLAMbassadors, the UK national youth poetry slam championships, as well as the international spoken-word project Borderlines. She is widely anthologised, the author of four collections of poetry and is currently completing her debut collection of inter-connecting short stories The Night Alphabet. Her new poetry collection C+NTO & Othered Poems was published in June 2021 and is the subject of the Radio 4 arts documentary, Butch.
Paul Burston is the author of six novels and four non-fiction books including bestseller The Black Path (2016), The Gay Divorcee (2009), Lovers & Losers (2007) and his debut novel Shameless (2001) was shortlisted for the State of Britain Award. In 2016, Paul Burston was featured in the British Council's Global List of '33 visionary people promoting freedom, equality and LGBT rights around the world.' A Rainbow List National Treasure and former AIDS activist with ACT-UP London, he is one of the subjects of Alexis Gregory's verbatim play Riot Act.
Ghost Writers
Jackdaw Faust is a trans writer, artist and animator, whose work is shaped by their love of animals, both living, extinct and mythological.
Chris Jenkins is a writer & performer from Liverpool working in theatre, film, spoken word and comedy. In 2016 he won Liverpool Echo Comedian of the Year. He has performed numerous solo shows at Edinburgh Fringe, Latitude and Contact Theatre. His work frequently combines humour and vulnerability to explore trauma, memory, the spiritual and the mundane.
Well Hung Parliament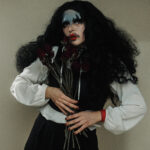 Well Hung Parliament is a Manchester-based Polish-born Drag Artist. Through drag, performance, and video, Well Hung Parliament explores themes of anti-capitalism, queerness, love, and liberation to create a space for audiences to engage in fantasies of joyful revolution and anarchy. They use drag to embody and communicate ideas through multi-media collage, often referencing historical subcultures and cinematic characters and tropes.
The Vicars Daughter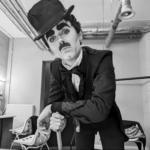 The Vicar's Daughter is Manchester's primary non-binary drag swing. Serving king queen and everything in-between. With one eye on heaven and one hand in the collection box, this Sunday school dropout puts the fun in fundamentalist dogma.
Working professionally as a drag performer since 2018 The Vicar's Daughter explores their inner world through the characters they bring to the stage. Who said camp can't be conceptual. Mixing characterisation, clowning, circus and pantomime to personify and converse with their inner demons.