Anthony Joseph: The Frequency of Magic
Join author, poet and musician Anthony Joseph as he reads from his most recent novel The Frequency of Magic, accompanied by some of the UK's finest musicians, he will create an enthralling performance of spoken word and improvised jazz.
The Frequency of Magic is an experimental, magical realist story about Raphael who earns his living as a butcher in a hillside village in rural Trinidad. He is also a would-be author, but there have been so many distractions to the novel he has been writing for forty-one years that many of the characters have lost patience and gone off to do their own thing… but somehow the novel seems to write itself.
Over a tour of 10 dates, Joseph and his ensemble will perform the entirety of The Frequency of Magic, offering a complete overview of this work whilst promising each audience an entirely unique experience that will not be repeated anywhere else.
Produced by Speaking Volumes and funded by Arts Council England.
Presented in partnership with Hope Street Jazz. Running since 2018, Hope Street Jazz has been a cornerstone and pioneer of the thriving Liverpool alternative music scene. Putting a unique, modern spin on the live jazz experience, Hope Street Jazz places the best up and coming artists in front of Frederik's diverse and discerning crowd, creating a magical atmosphere and the best place to have a dance and sup a cocktail or two during the week.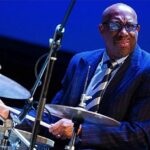 There are few musicians who encompass the wide range of musical adeptness, emotional zeal and technical prowess of Rod Youngs. The London based drummer's capacity for empathy, infectious grooves and commitment to musical excellence have made Youngs one of the most respected and in demand musicians on the music scene today.
A native of Washington D.C. Youngs' developed an interest and appreciation for music at an early age. This interest gradually grew into a passion that led to his studies at Howard University where he received a Bachelor of Arts degree in Applied Percussion. He also studied with former principle timpanist of the National Symphony Orchestra, Fred Begun and in 1985 he was chosen to study jazz performance at the Eastman School of Music in Rochester, N.Y. under the tutelage of Keith Copeland.
His consummated musicianship has not only garnered him a MOBO nomination (as a member of Lineage) but a wide variety of work from concerts and recording sessions for radio, TV and film. In addition, he has become the drummer of choice for a formidable array of artists including, Gil Scott-Heron, Sia, Courtney Pine, Hugh Masekela, Carleen Anderson, Natalie Cole, Bennie Maupin, Mica Paris, Denys Baptiste, Abdullah Ibrahim, Juliet Roberts, Julian Joseph, BBC Concert Orchestra, Ronnie Laws, Jocelyn Brown, Jazz Jamaica All Stars, and David Murray amongst others.
Rod is actively involved in music education. He has served as an instructor on the Glamorgan University jazz course and has conducted performance workshops for South Hampton University, Tomorrow's Warrior's Organisation, Serious International Music Producers and The Round House. He currently provides private instruction for students of all levels and ages and serves as a guest artist at the Planet Drum School and the Julian Joseph Jazz Academy.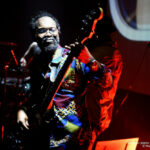 Andrew John is a London-based electric bassist/composer, incorporating a heavy grooved style coupled with a melodic musical outlook. His music is generally laced with Funky rhythms and additional touches of Jazz-inspired improvisations taking you on a journey through different musical genres. For the last 10 plus years he's been a key member of Anthony Joseph's bands and musical projects, touring, composing and recording. During this time, he has played live alongside the likes of Jason Yarde, Shabaka Hutchings, Denys Baptiste and Byron Wallen.